Success Stories
Shady Rays
Driving a 440% Increase in Conversions Through Onsite Messaging
With help from Justuno, Shady Rays increased their email list by over 200,000 leads in just six months. Learn how Shady Rays increased engaged conversions while decreasing bounce rate.
Contact Us
Results
Beyond Shady Rays' initial goals, the collaborative nature of the Shady Rays and Justuno teams also led to a nearly 8% decrease in engaged cart abandonment and sparked a campaign that found 16% of visitors are more likely to convert if they engage within the cart.
440%
Increase in Engaged Conversions
"To know the rules, to be able to get things done quickly and to design promotions in line with best practices is something that is turn-key with Justuno."
Chris Ratterman, Founder & CEO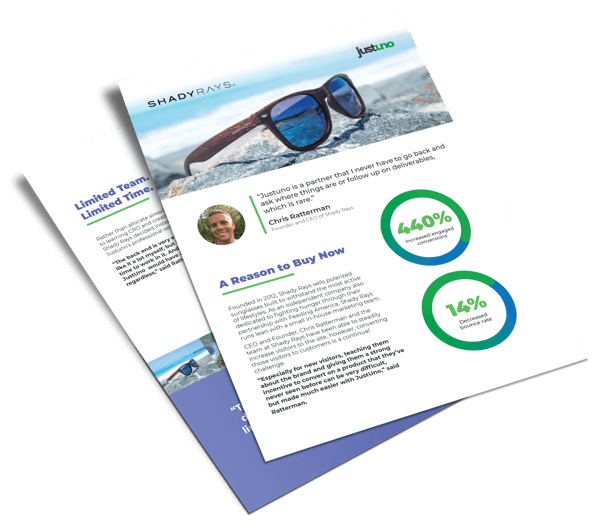 About Shady Rays
Founded in 2012, Shady Rays sells polarized sunglasses and runs lean with a small in-house marketing team. With Justuno, Shady Rays had full access to high-level metrics on acquisitions, clicks, conversions, and more.


And as a Shopify Plus user, Shady Rays was able to integrate their store with Justuno at just the click of a button.
Download The Case Study Today!
Within six months, Shady Rays collected nearly 200,000 emails, engaged conversions rose by nearly 440%, and their bounce rate decreased by 14%.
[hubspot type="form" portal="289858" id="21285446-234a-430d-9328-148d768e4c97"]