Case Studies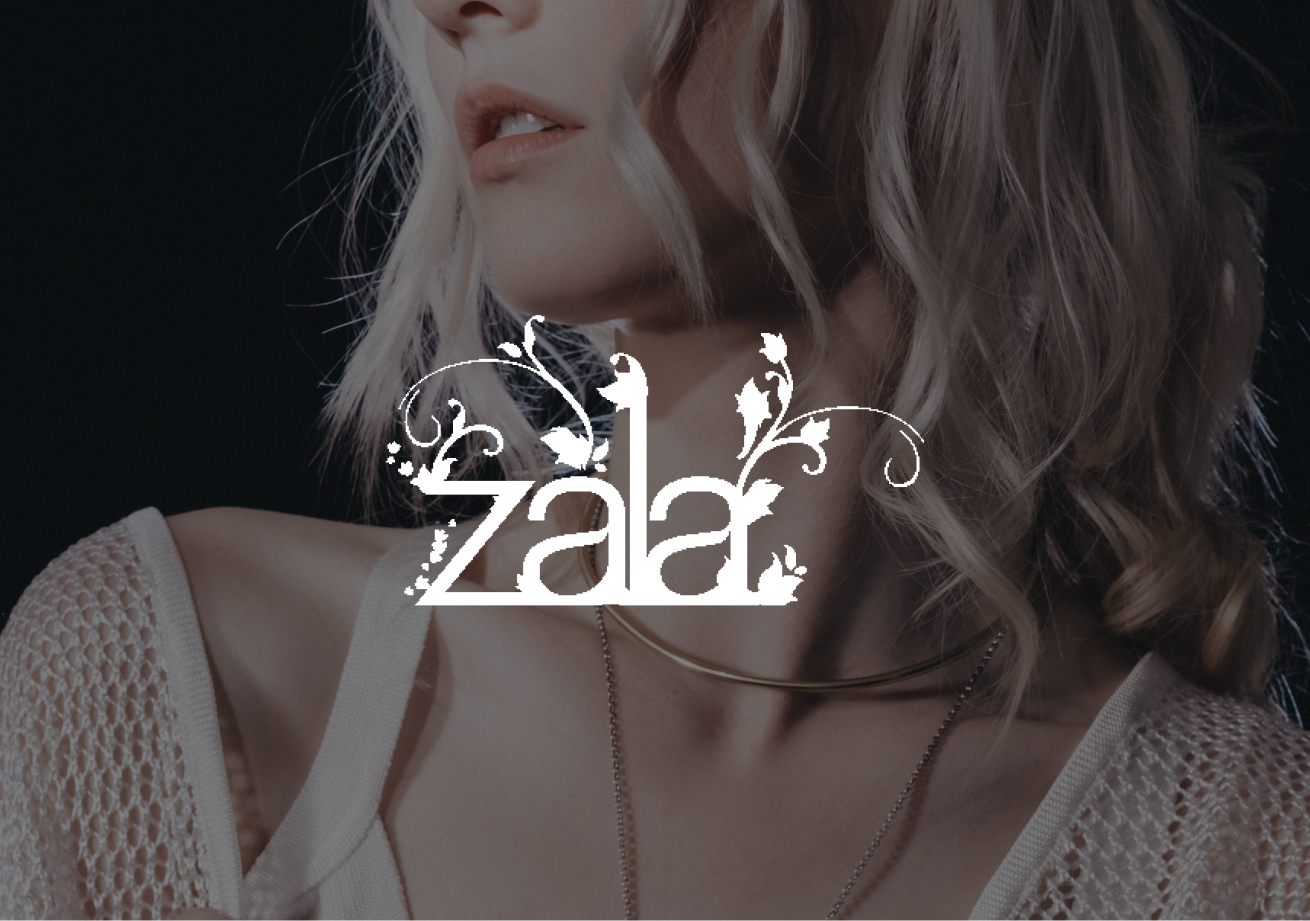 Success Stories
ZALA
Optimizing Lead Capture Strategy for a 555% Lift in Session Value
Learn how ZALA and Growth Gurus use Justuno to continuously grow their subscriber base for highly effective email and SMS campaigns. This high-growth strategy combined with personalized product recommendations means ZALA is not only turning more visitors into customers, they're more valuable too.
Takeaways:
Doubling their monthly list growth with highly targeted subscriber pop-ups
Paid ads and segmentation strategy
In-cart product recommendations for higher AOV
Contact Us
Results
With Justuno, ZALA was able to implement advanced segmentation and targeting rules to improve the results of their acquisition campaigns. This seamless experience from ads to their website led to explosive list growth while simultaneously improving AOV and conversion rates.
30%
Revenue Growth with Justuno
555%
Session Value Increase with Justuno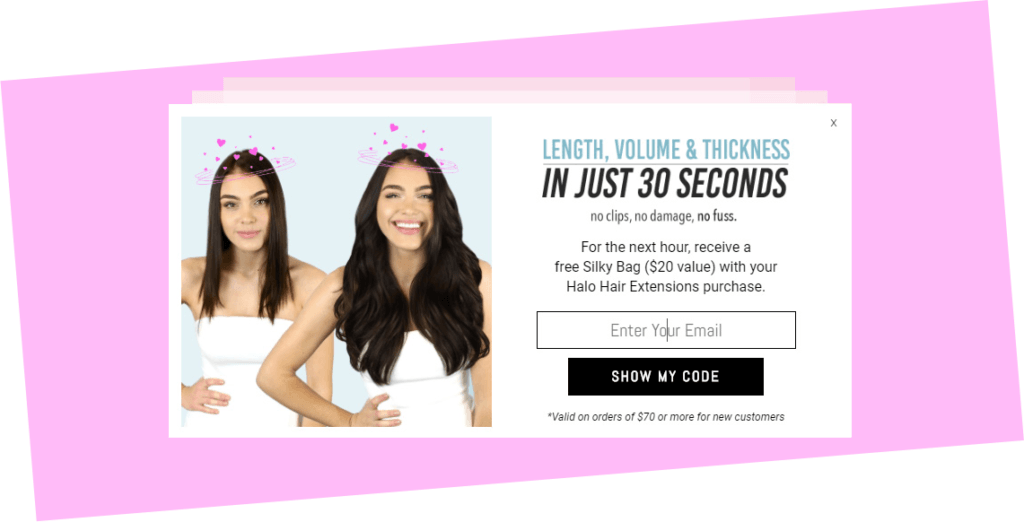 How We Did It
ZALA is a leading hair extension brand with an impressive range of products that has a solution for every shopper. They teamed up with Growth Gurus to grow their marketable database and bring strategic focus to their marketing campaigns. Growth Gurus added Justuno to ZALA's tech stack to optimize lead capture using highly-customized promotions and granular audience targeting. By combining Justuno's CRO platform with winning strategy and design, Growth Gurus created a high-growth strategy designed to nurture website visitors from leads to customers.
Using Justuno Plus, Growth Gurus implemented a targeted campaign for growing ZALA's subscriber database that combined email opt-ins and campaign-specific promotions tying their offsite campaigns together for a reinforced onsite experience. They followed this with in-cart product recommendations designed to boost average order value (AOV) for even more explosive results. Combined, this led to ZALA doubling their monthly list growth and a 12% lift in conversion rates when engaged by a Justuno promotion. Let's get into the details of how Growth Gurus unifies ZALA's marketing campaigns with Justuno, creating a full-funnel experience from acquisition to retention.
New Visitor Growth and Paid Ads
Growth Gurus' main goal for ZALA was to grow their email and SMS subscriber base, so they could improve their top to mid-funnel engagement. Using Justuno, Growth Gurus built a New Visitor campaign to show a welcome offer to people visiting the site for the first time. As visitors continue to explore the website, visitors will also see targeted offers based on the product or collection pages they visit.
For visitors who click through from paid ads, promotions fire that reflect the campaign messaging from the original ad using Justuno's ability to target specific UTM parameters. 
This advanced targeting strategy allows ZALA to tie together offsite experiences with onsite messaging for a seamless brand experience.
ZALA adds an average of 18,000 new contacts to their database every month with their New Visitor strategy, and website visitor engagement with Justuno promotions led to a 7% increase in paid ad conversions.
Armed with this substantially larger subscriber database, Growth Gurus built out automated marketing flows for email and SMS to nurture and engage their newest leads. After creating these continuous flows, Growth Gurus ensures each campaign has a subsequent onsite experience to mirror these messages and naturally drive subscribers to convert.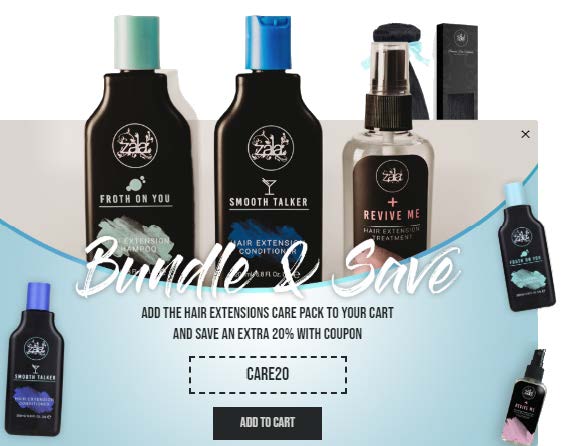 In-Cart Product Recommendations
Building on their success with new subscribers, Growth Gurus moved onto the second phase of their CRO strategy: product recommendations. They recently implemented in-cart recommendations to focus on increasing session value. Using a mix of product-specific upsells and bundled cross-sells, Growth Gurus created relevant recommendations for every ZALA shopper.
Implementing these in-cart recommendations led to a 2% lift in engaged revenue in just the first two months and saw an average engaged conversion rate of 36%.
By adding in product recommendations to their overall website optimization strategy, Growth Gurus was able to increase ZALA's average session value by 555% when a Justuno pop-up was engaged with.
Ready to Take The Next Step For Your Business?
Start a Free 14-Day Trial Today!
Start optimizing onsite experiences today with access to designer templates and 80+ advanced targeting rules
Our customers see a 135% increase in revenue during the first year, see what Justuno can do for you!
Start my 14-day free trial
See It For Yourself, Request a Demo
Get a personalized walkthrough of the platform to see how Justuno can help uncover hidden opportunities and improve performance.
Our team will help you find the plan that fits your business goals and get you started on your CRO journey.
Request my demo