Background
SkinnyMe Tea is an Australian based health and lifestyle company that specializes in high-quality teatox products. They opened up shop in 2012 on the Shopify Plus platform and have rapidly grown into a recognizable brand and the leader in the space. SkinnyMe Tea offers additional value to individuals with their teatox iPhone app, nutritionist-approved eating plan, free exercise plan, and fantastic customer service!
Objectives
SkinnyMe Tea needed a more effective email list growth strategy to pair with their MailChimp email marketing campaigns. They also were looking for a way to drive more sales through conversion marketing efforts. Lastly, SkinnyMe Tea wanted to distribute their free eating plan to more website visitors.
Solutions
SkinnyMe Tea implemented a 5% off discount promotion through Justuno in which visitors could enter their email address and instantly receive a coupon code on-site. This effectively presented their promotional offer to visitors while also acting as an email opt-in form. SkinnyMe Tea added another pop-up promotion to distribute their free eating plan to visitors who subscribed to their newsletter.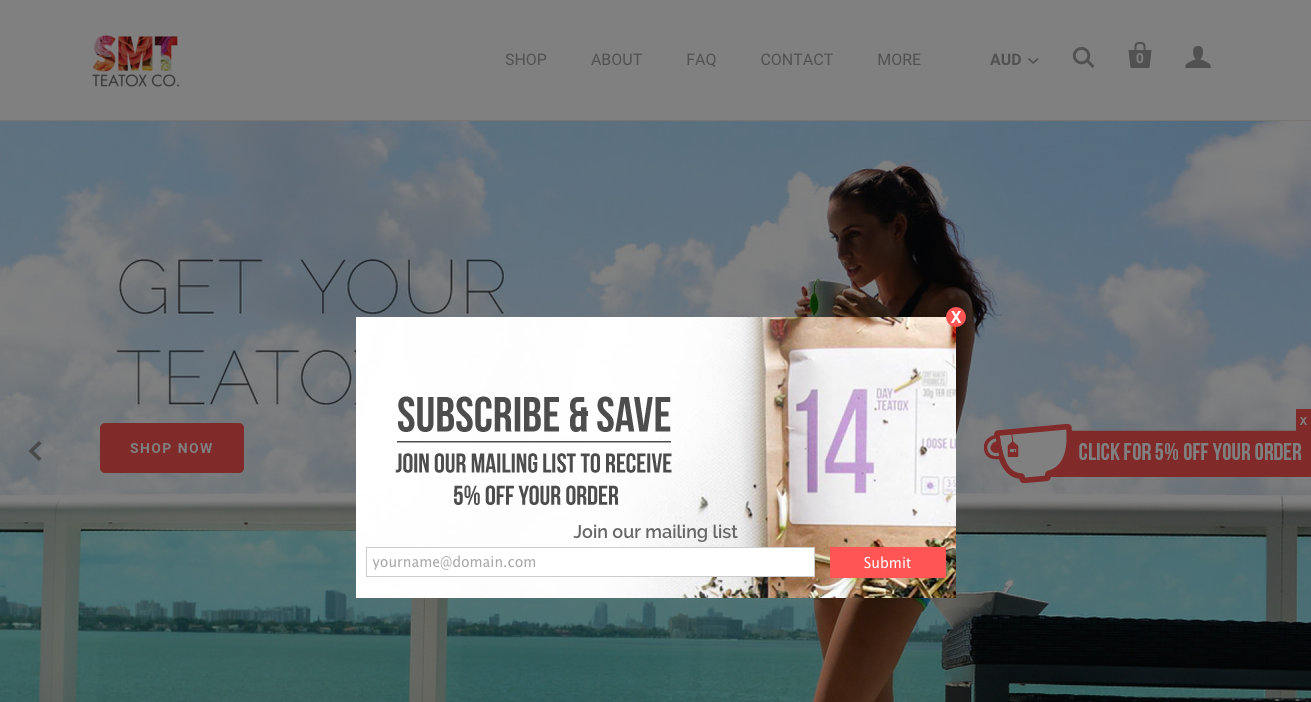 Results
By implementing email pop-ups on their website, SkinnyMe Tea increased email opt-ins by 758%! By offering a discount code on site, SkinnyMe Tea was able to increase its sales conversion rate by a full 1%.
While this may sound like a small increase, it's far from it. Here's an example based on estimations. If a site gets 100,000 monthly visitors and they increase their conversion rate by 1%, that's 1,000 more sales. Multiply these 1,000 sales by an estimated average order size of $25 and you get $25,000 of additional monthly revenue! That's $300,000 additional revenue per year.
Key Takeaways
Add Value with Content
It's not just for blogs, content has its place in e-commerce as well. SkinnyMe Tea continues to add to the customer experience with their exercise and eating plans. By doing this, they are able to offer more value to customers cultivating loyalty and driving traffic back to their site. Start investing time and resources into developing relevant and useful content for visitors; It will enhance your brand and shopping experience.
A Small Change Leads to Big Results
It's easy to become satisfied with e-commerce success and be happy with the way things are with your shopping experience when you're having success. But the reality is that there is an incredible amount of sales opportunity out there and you can capitalize on it. A growing email list and an increase in conversion rate can result in a substantial boost in revenue!